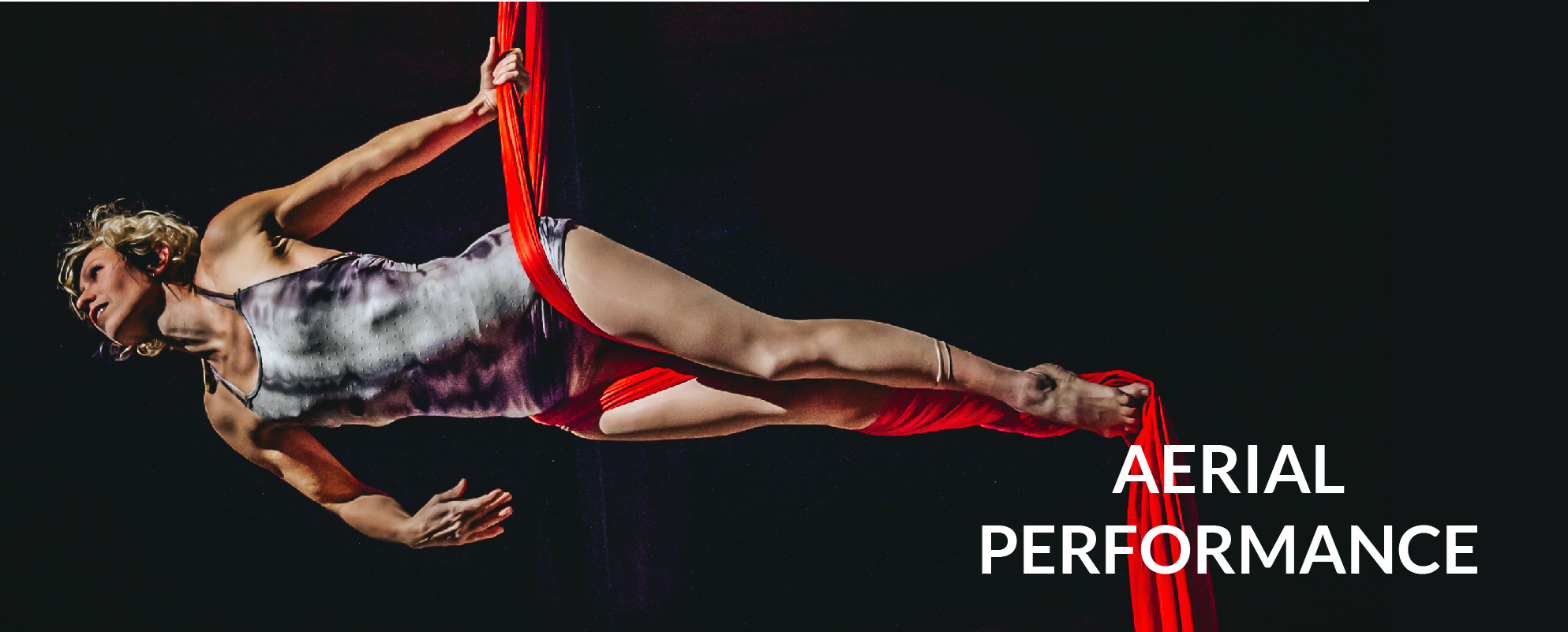 LET'S TAKE YOUR EVENT TO NEW HEIGHTS. SEND US A BOOKING INQUIRY
Aerial performances are dramatic and awe inspiring. Defying gravity, aerialists will take your breath away and transport you to another reality.
Facts for Aerial Performances
Rigging (hanging our aerial equipment for your event)
Aerial acts generally require at least 18 feet of clearance, but we have on occasion worked with lower ceilings. We have many years experience in safely rigging our equipment in a variety of sites. If there is nothing to which we can rig our equipment we can provide our free-standing aerial structure for either indoor or outdoor use. The aerial rig is height adjustable to a maximum of 21 feet and can accommodate uneven ground.
Customization of Shows
We have many prepared "ready to go" choreographed acts to choose from, but we also customize acts to new music or create new pieces to give you something that will suit your particular event. Some of our aerial work is by nature site-specific (building dances) so will be created for your particular location.
Aerials as a Featured Act versus Ambient Entertainment
Aerial acts can be contracted as a featured performance (a focused show for your guests) or as an ambient/atmospheric type of performance to add visual interest to a room or entrance area as guests arrive or mingle. We generally recommend aerials as a featured performance as this really highlights the impressiveness of the art form, but there are occasions when adding aerials as an atmospheric element is a nice surprise. Choreographed routines are usually about 4 – 6 minutes long. In the case of ambient performance, aerialists generally move more slowly or perform a more character-based improvisation. For ambient performance, aerialists would perform multiple sets throughout the course of the event and sets can be 5 – 15 minutes long, depending on the aerial apparatus selected.
Aerial Silks
Whimsical Winter Theme
Wall Dancing
SFU Woodward's Opening Celebration
Cradle with Dress
Listening for Angels
Bungee Characters
The Bouncy Sisters
Counter Balance Rope Duet
An excerpt from "Making a Connection", Vancouver Roundhouse 125th Anniversary
Aerial Ladder with Rope Counter Balance System
An excerpt from "Making a Connection", Vancouver Roundhouse 125th Anniversary
Bungee with Truss
An excerpt from "Spark", Cultural Olympiad 2009