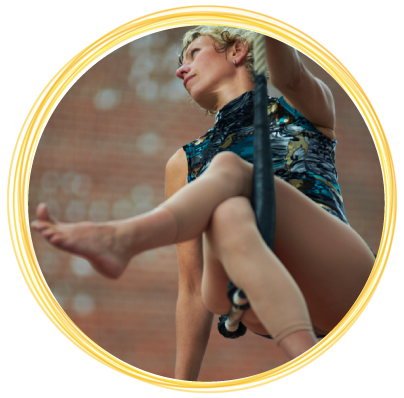 Human existence is by nature creative. Our Mission is to foster human creativity and the appreciation of creativity in both viewer and performer. Come play with us! 
Kira Schaffer offers courses, workshops, and one-on-one coaching in a range of dance and circus modalities, focusing on self-expression, authenticity, presence, mindfulness and finding pleasure in sensing and moving your body. We have offered workshops in aerial dance, fire dance, performance skills, mindfulness in movement, dancing within natural ecosystems, site-specific dance creation, mixed abilities aerial dance, and guided meditation. Our students range from beginners to professional dancers and circus performers.
Some Past Firebelly Workshops
To receive notices about upcoming workshops please join our mail list.
If you'd like to bring Kira Schaffer to teach a workshop in your community or you are interested in private coaching sessions please contact us.
We help students develop strong technique (and muscles) while encouraging them to find their own style and artistic voice. We believe that every body has it's own unique beauty waiting to be expressed. We want to free your creativity within a playful, safe and supportive environment. We believe the world needs more playful creative folks. Come join us.